Olivine Hut Clean Up
12 August 2020 - David Cary
On Saturday I took off for a planned 5 day trip for a desperately needed tidy up of Olivine Hut.
The hut was flooded in February and with road closures and travel restrictions due to covid-19, few parties have passed recently.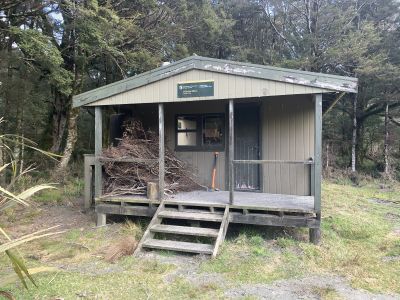 I was unable to find any one available to help me in the weather window available so it was a solo jaunt. I left Te Anau at 7:30am, for Lake Marian Carpark. Rode my bike down the Hollyford Road which is now in surprisingly good repair, requiring only two dismounts. At Girder Creek and soon after where the road is washed out and I had to push through the forest for 100m.
The Hollford River is in good condition and it was an easy packraft to my get out at Rainbow Creek, less than an hours walk from Alabaster Hut. Thanks to Ian and company for a friendly cup of tea at Alabaster Hut. I saw Kaka on the way near Pyke Lodge.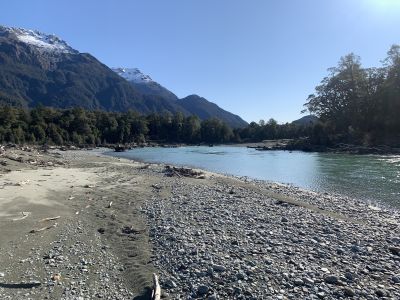 I paddled Lake Alabaster and got out on the Pyke Track at 5pm, walked an easy 90 minutes mostly off track through open leads to Saxons Hut. The crossing of the Pyke just on dusk turned into somewhat of an epic as I was a short distance downstream of the only get out spot. It involved two wades up gravel leads in the middle of the Pyke. I arrived wet and cold in the clear frosty dusk but was safe and warm due to Bruce Reay's generous hospitality.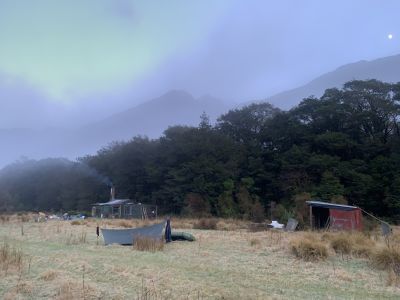 Next day I walked up the airstrip and recrossed the Pyke River to get back onto the Pyke Track immediately after the Black Swamp. It is a short easy walk with only a short section of damaged track to Olivine Hut and I was cleaning by 10am.
First job was to sweep all the silt out from under the bunks, which I knew from prior experience required a face mask and some hours. Over the next day and a half I also cleaned all the table surfaces, sink, benches, walls, windows, matresses, burned or buried the rubbish, cleaned the toilet again and collected a stack of kindling. Thanks to Bruce who generously came up with his chainsaw and first cleaned the silt out of the woodshed and then filled it with firewood, and got the rubbish fire going for me.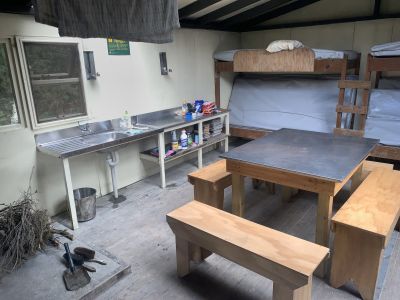 I took time out for a short bush walk to Olivine Falls. Highly recommended if you are ever nearby.
On the fourth day I got ino my boat at 7:45am, had a quick coffee with Bruce on the way and got out at Pyke Lodge around 11am. Its a beautiful walk to Hidden Falls over Little Homer Saddle and I saw a group of Kakariki which made me feel very happy.
Lunch on the deck chatting with with Ian and company at Hidden Falls Hut. Since it was still early I left for the road end, crossing the Humboldt Bridge slightly behind schedule at 5:09pm.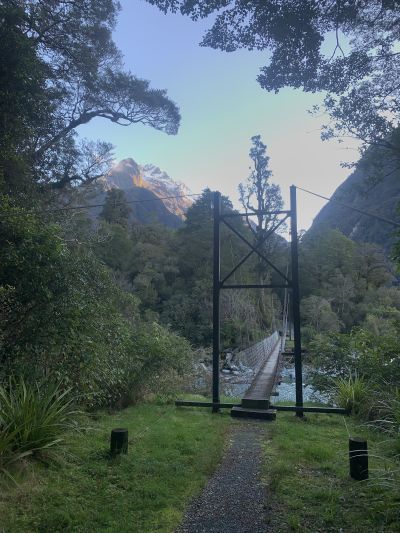 The bike ride was smooth and much faster than I expected and I reached my vehicle well before 7pm. I missed seeing my friends Stanley and Belinda, who must have passed below me on the river on their way to Hidden Falls Hut.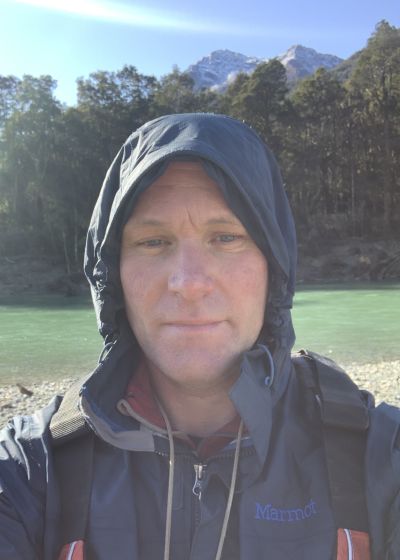 Unfortunately the dairy had just closed when I arrived in Te Anau, no fish and chips. Another day.