Dusky Track Guide
17 August 2020 - David Cary
For an experienced tramper the Dusky Track is easily the best track in New Zealand, it has everything and mud.
It is my all time favourite track though sadly and also fortuitously it is seldom tramped theese days.
The usual way is to start with a boat trip with Johan or Joyce, the kindest and most conservation minded couple in New Zealand tourism, on the fearsome Lake Hauroko. Namu, their water taxi has been made considerably deeper than a standard boat to cope with the waves. During summer they operate one, sometimes two scheduled departures each week, otherwise get a group together and organise a charter. I strongly recommend their services, local knowlegde is essential on our deepest haunted lake.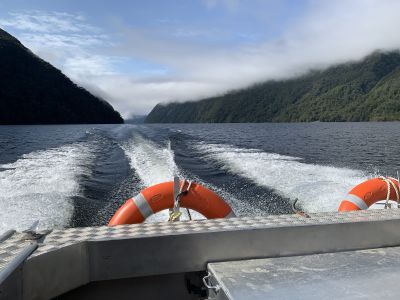 The first day follows the gentle though sometimes muddy and sketchily marked Hauroko Burn from Hauroko Burn Hut at the start to Halfway Hut. A good place to stop as the journey in uses up a large portion of the morning.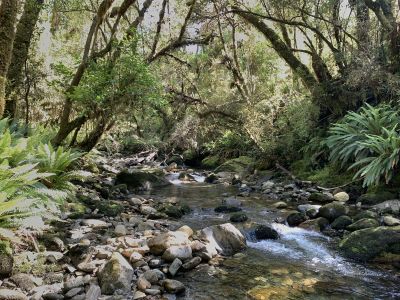 If you are fit it is possible to walk all the way to Lake Roe Hut, which is what I recommend as the best way to save a day, but be warned it is a steep climb.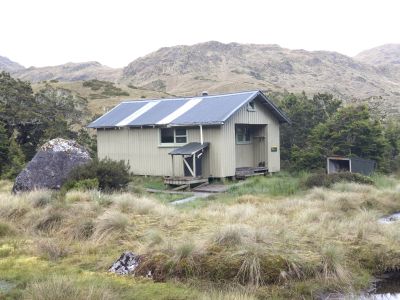 Get up before sunrise and walk the short distance to Lake Roe for the Instagram shot.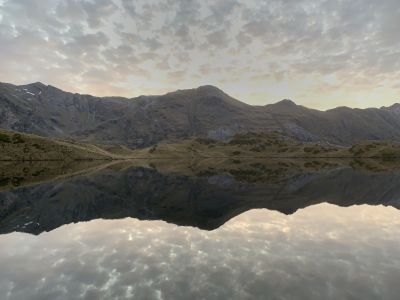 The picturesque section from Lake Roe Hut follows snow poles along the tops between tussock and tarn and then descends abruptly and extremely steeply to sandfly infested Loch Maree Hut.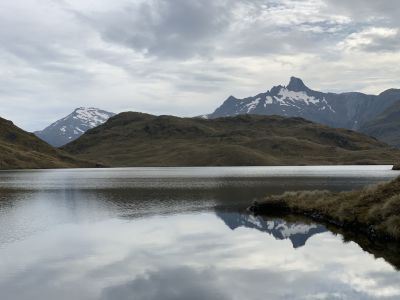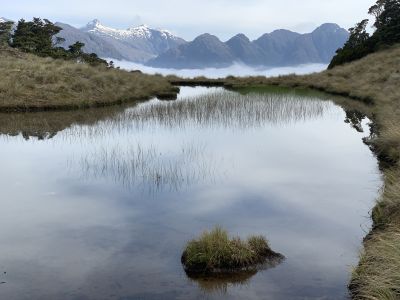 Only the very hardiest of souls are capable of skipping Loch Maree Hut, I found myself traumatised by the interminable descent. There are handy chains and you will need them. Take care of your knees, go slow. Poles will not be much help, its too steep.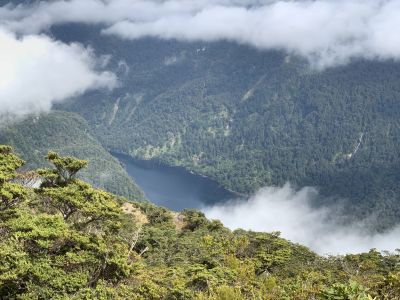 The easy walk from sandfly central to Supper Cove Hut should not be left out under any circumstances. Time it so you arrive at the tidal flats at low tide, be ready for a wade once the flats run out, the marker indicating access to the track is farther out than you will expect, but do not take risks and go too deep. I had wasit deep water to reach the buoy marking easy access to the track. The alternative of a grovelly bush whack is not attractive but may be necessary.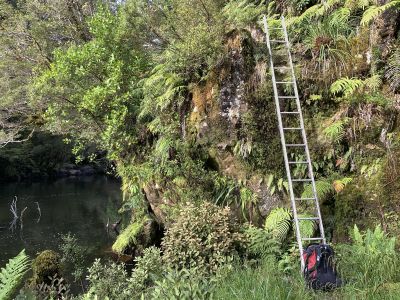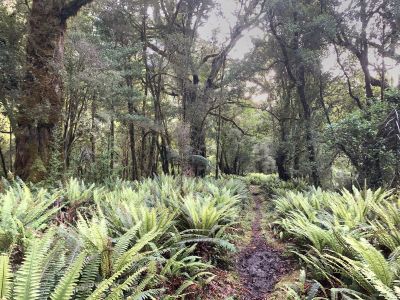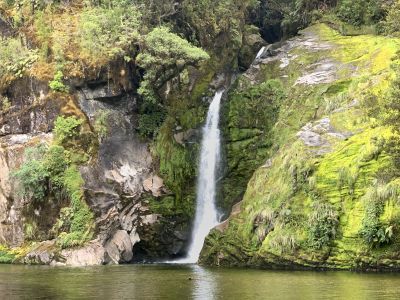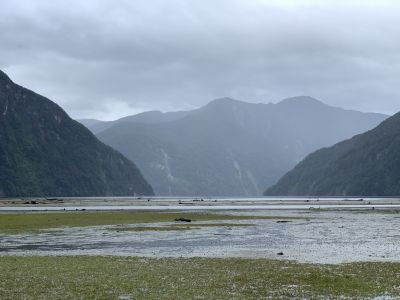 Take a hand line and some tin foil, use cheese and see what you can hook for bait off the rocks below the hut. Don't count on it but you most likely will enjoy fish for tea.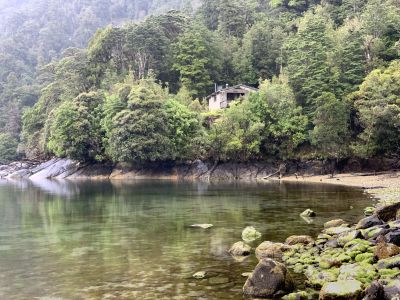 If your stay is disturbed by helicopters ferrying charter passengers please make your displeasure known. Lets keep Dusky Sound free of noise pollution.
Try and spend a rest day at Supper Cove if you can.
The walk back out to sandfly central Loch Maree is more of the same, though the mature coastal forest of the Seaforth is thouroughly enjoyable.
The walk to Kintail Hut is interesting and challenging, closer to the hut the track marking can be sketchy, be sure to patiently look for the orange markers as in some places the track and the map do not match up. If in doubt use a good quality GPS to return to your last known triangle, do not rely on a phone to get you out of trouble, in my experience phones are too slow in deep forested valleys and likely to chew through more batteries than are available at this point of the tramp.
Kintail Hut to Upper Spey Hut is another fabulous walk, steep and mossy until close to Centre Pass, an ideal of a mountain pass perfect in every way. After previous days travails the descent will be pleasent with just enough difficulty to keep it interesting until you hit the board walks around Upper Spey Hut.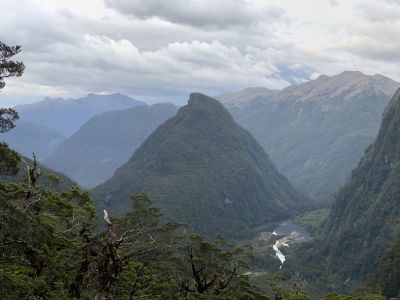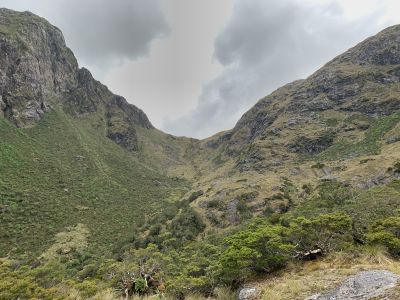 The walk out from Upper Spey Hut is a trudge, I was able to do it in an afternoon combined with an early start at Kintail Hut. Since there is a time limit, you need to catch the last boat out to Manapouri, this may not be a good idea for most people.
Grab a seat on a Real Journeys or Go Orange boat to Manapouri, its not really worth booking in advance, they will likely fit you on board whatever happens. You will have to pay on arrival at the terminal in Manapouri. Reward yourself with fish and chips or chocolate milk at the Manapouri Dairy.