Greenstone Caples Track Guide
17 August 2020 - David Cary
The Greenstone and Caples Valleys can be linked into a loop of approximately 4 days
, they have the same trail head and terminus, at either the Divide or Greeenstone Shelter on Lake Wakatipu near Glenorchy.
Three good 20-24 bunk huts, manned by DOC hut wardens in the summer, can be used for the price of a hut ticket. McKellar Hut and Greenstone hut are well spaced in the gentle sometimes pastoral Greenstone Valley. Mid Caples Hut is in the Caples Valley.
It is also possible to combine either the Greenstone or the Caples with the Routeburn using a shuttle between Greenstone Shelter and Routeburn Shelter.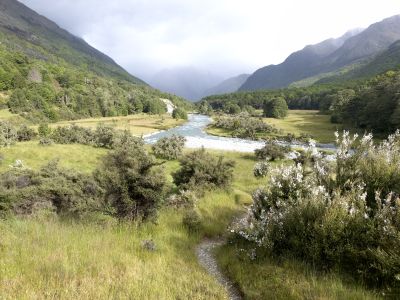 The McKellar Saddle can be very cold and exposed in bad weather. Mature beech forest in the Caples Valley is among the best I have seen in the south, though many people feel the 'new' Caples Track was made into too much of a superhighway by over enthusiastic track builders.
Like the Kepler Track, the Greenstone Caples Tracks are potentially an excelent introduction to fastpacking and ultralight hiking.
Popular Greenstone Hut is on the Te Araroa Trail, at the right time of year you may have to share it with hiker trash on ther last leg to Mavora Lakes and Te Anau, the Takitimu Mountains, the Longwoods and Bluff. It may be wise to carry a tent or tarp if you plan on staying at Greenstone Hut in the height of summer.