Pyke Loop Packrafting Guide
17 August 2020 - David Cary
The Pyke Loop is one of New Zealand's best packrafting trips.
Since the floods in February 2020 its a little harder as the Hollyford Road is now closed to vehicles.
It is much easier to packraft the loop than to walk it, on foot Lake Alabaster can be tricky, as can crossing the Pyke, and the routefinding requires a lot of experience, it really can be quite challenging.
Walk the last 3 km of the Hollyford road from the washout at Girder Creek. To reach the Hollyford River from the road end walk +-1km down its old river bed, now Humboldt Creek. Cross to the downstream side of Humboldt Creek near the Hollyford to avoid quicksand above the confluence.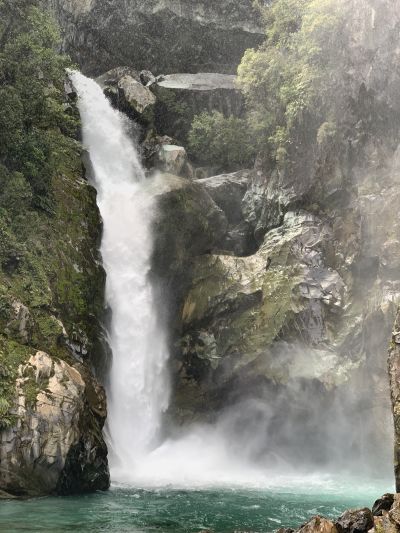 Get in and raft past (or stay at) Hidden Falls Hut to Little Homer Saddle rapids where you get out on the true right very close to the first big river boulders. Its a grovel of a portage, expect wet feet but you should be able to aarry your boat through. The put in spot is slightly tricky but no big deal. Raft down past the confluence with the Pyke, you will likely want to get out and portage the rapids above Mc Kerrow Island on the left hand side. McKerrow Island Hut is a classic, hidden in the trees at the end of the island.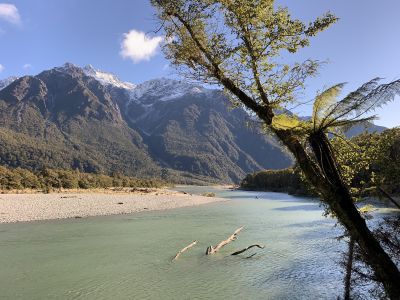 Paddle the right hand side of Lake McKerrow, passing Demon Trail Hut and Hokuri Hut and paddling down into the lagoon and North to Martins May Hut. If you like walking, get out at Hokuri Hut, or later past Jamestown where the Hollyford Track veers back into forest. This section is easy walking and the birds are exceptional.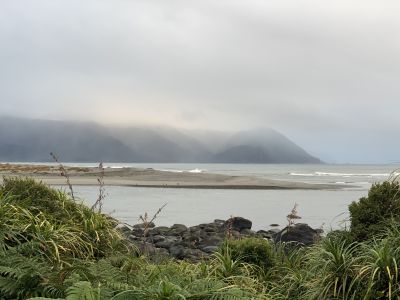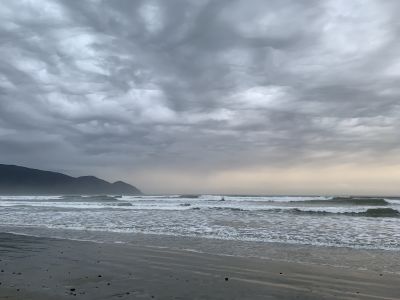 The walk to Big Bay should take about half a day, there will be mud and slippery boulders. Try and time it so you hit the South end of Big Bay at low tide, to make the river crossing easier.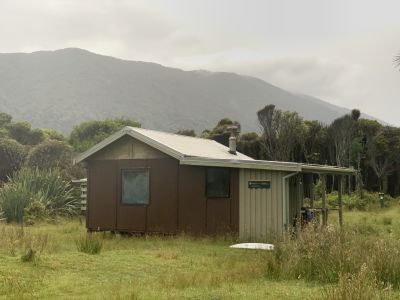 It is a 3-4 hour walk, well marked in this direction, to the Pyke Crossing where you can usually get in your boat, and then a good raft down the magical Pyke to Olivine Hut.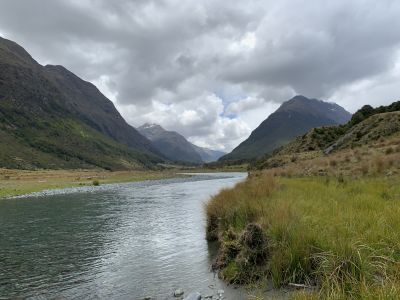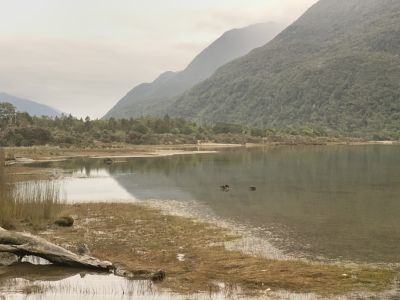 Float quietly down an hour to Lake Alabaster, which is a 2 hour paddle in good conditions. Stay at Alabaster Hut or get out further down stream at Pyke Lodge.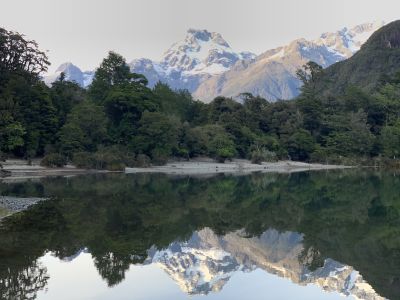 Walk 2-3 hours to Hidden Falls Hut, 2-3 hours further to the road end to pick up your bikes. There is a lot of track damage between Hidden Falls and the road end. There is no longer a bridge at Swamp Creek. Swamp Creek is potentially impassable when there has been rain, it is an easy wade in dry conditions.
Allow 7 days to raft the full loop, stop and enjoy time at one of the wonderful huts along the way if you have time to spare.
All of the Huts on the Hollyford Track are very clean and tidy. Big Bay sleeps 9, Olivine sleeps 6, in the height of summer take a tarp or tent in case theese huts are full, give preference to trampers, there are not many of them, they depend on the huts, are less able to carry a tent.
Please make an effort to leave Big Bay Hut and Olivine Hut better than you found them, they do not get much love.
To walk the full Hollyford, Pyke-Big Bay Circuit is 88 km and typically takes 10 days. The route includes some river crossings that may be impassable in wet weather. High levels of routefinding ability and low river and lake levels are needed to walk the circuit safely, it is poorly marked and quite difficult.