New Stuff
22 September 2020 - David Cary
Today I made my first waist bag out X-Pac VX21 Cire and Liteskin LS07, using up odd bits between pack cuts.
I am very happy with the result, and the good news is it weighs in at exactly the same weight as the X-Pac VX15 version, under 60g. A little less for a cut down waist strap, I ship them long just in case.
I have these bags dialled now, they were a hard thing. Turn them inside out for a totally unique, brutally light weight and very sturdy construction method.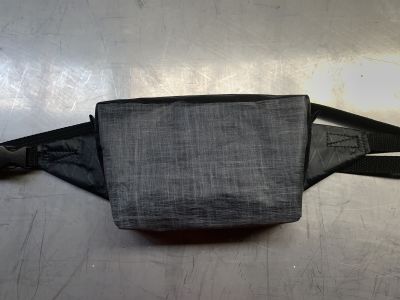 I am working on an exciting new day pack, there is nothing quite like it NZ, anywhere I think, waiting on some new ultralight webbing and elastic. Its mostly all there, sitting in a 150g pile of stuff. I love it when a pack comes together!