60g Waist Bag
The simplest and lightest waist bag available anywhere, it is highly water resistant .
Average Build: $65
Apologies. I have paused the shop until the end of October so that I can finish orders before I go to Dusky Sound on the 14th. The wait time will be minimal when I reopen on the 1st of November. Please feel free to check options using "Build Your Pack" or "Select Options", it will not be possible to checkout.
Comfortable worn in front or behind, it dosen't bounce around when you run or ride and sits nicely in your lap on a packraft or kayak.
Designed to be light and packable, dimensions are approximately 18-20cm long by 11cm deep by 6cm wide, or 1.3 litres. Made from high tech fabric laminates from Dimension Polyant, it is available in a full range of colours.
Originally designed as a swimbag to hold a PLB, GPS and basic survival kit, for the packrafting parts of long off-track Fiordland packraftineering missions. It is not meant to be totally waterproof but is extremely water resistant. Made with a rubberised water resistant zip.
I have used various versions on packraftineering trips, to hold nails and triangles for volunteer conservation work in steepest Fiordland, and for regular runs and walks on the Kepler Track. I use one daily on my bicycle commute to hold my valuables.
The orignal versions were made from 5oz Dyneema Composite Fabric Hybrid, I found they got manky, dirty and stained very quickly. X-Pac V15 has a water repellent coating that helps to keep them cleaner and it weighs slightly less.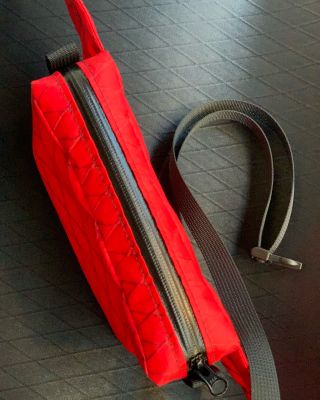 Explore available fabrics in detail.
It is currently taking me 2 weeks weeks or less from order to get a new bag in the mail.
Options include:
&nbsp&nbspColour and Fabric
&nbsp&nbspWaist Belt Width
&nbsp&nbspWaist Circumference (cm)
If you have any questions, please email.
Postage within NZ is $15.5 per order by NZ Post.
Postage outside of NZ ranges from $35 to Australia, $65 to Europe, $65 to Canada and $75 to USA.