Kepler Track Guide
17 August 2020 - David Cary
The 60 kilometer Kepler Track is New Zealand's most convenient tramping track, it starts and ends at the Lake Te Anau Control Gates 5 kilometers from Te Anau.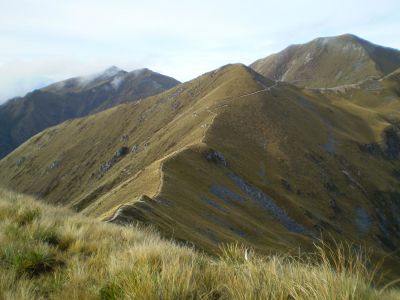 It's a Great Walk after Labour Weekend (from 27th of October) until the 30th of April, which means you need to book. Adult New Zealand citizens and those ordinarily resident in New Zealand are charged $65 per night, under 18's are free but booking is required. There is no extra charge for adult international visitors but non-resident under 18's are $32.50 per night.
During the Great Walk season the camp sites at Iris Burn and Brod Bay are $20 per adult per night, booking is required.
It's often possible to walk the Kepler in the winter and spring, but if there is any risk of avalanche it is extremely foolhardy to proceed, people die regularly, including two Canadian tourists in the winter of 2020. In winter it is imperative you check with the Te Anau DOC office before proceeding. The gas stoves are removed, the flush toilets are closed and a long drop is made available, running water is stopped due to the risk of pipes freezing. Adults need $15 per night in hut tickets and under 18's are free.
Transport to and from the Control Gates and Rainbow Reach is available all year from Te Anau Taxi Transfers and in the great walk season from Tracknet
It is possible to ride a bicycle to the Control Gates and Rainbow Reach on the Lake2Lake Bike Trail. Bicycles are not allowed on the Kepler Track. Hire a bike from Wild Rides.
There are 3 huts and 2 camp sites, Brod Bay Camp Site on LakeTe Anau, Luxmore Hut high on the slopes of Mount Luxmore, the remote Iris Burn Hut and Camp Site, and Moturau Hut on Lake Manapouri.
In the Great Walks season all of the huts are manned by a warden. There is usually a warden at Luxmore Hut all year round.
There are two small A-frame shelters on the exposed alpine section between Luxmore Hut and Iris Burn, Forest Burn Shelter soon after Mount Luxmore, and Hanging Valley Shelter before the descent into the Iris Burn. There is also a rain shelter at Rocky Point half way between Iris Burn Hut and Moturau Hut, and at Rainbow Reach and the Control Gates.
Toilets are available at the Control Gates, Dock Bay, Brod Bay, Luxmore Hut, Forest Burn Shelter, Hanging Valley Shelter, Iris Burn Hut, Rocky Point Shelter, Moturau Hut, Rainbow Reach.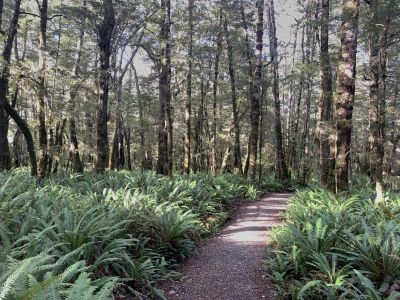 The best way to walk the track is to spend a night in each hut and to walk the complete loop, allowing plenty of time to visit Luxmore Caves on the first day, for the easy walk to Luxmore Summit on day two, to enjoy the bird life of the Iris Burn and the calm of Lake Manapouri on day three, and then an easy walk out on the fourth day.
The most common way to walk the track is day one Luxmore Hut, day two Iris Burn Hut, day three skip Moturau Hut and out at Rainbow Reach.
Fit and experienced trampers with a light load can do it in 2 long days in any direction, staying overnight at Iris Burn.
In good weather during the long days of summer ultra runners do the track in a day, usually a longer day than expected, often bailing out at Rainbow Reach. A very average runner might take 12 hours. It's not a good idea to attempt to walk the full Kepler in a day, 15 hours is about the minimum walk time for a very fit hiker with a minimal load.
The exceptionally popular Kepler Challenge mountain ultra marathon is run annually on the first Saturday of December over the full Kepler Track. The winning runner usually completes the course in 4 1/2 hours and the bulk of runners come in between 8 and 12 hours.
Do not underestimate the conditions above the tree line. Much of the track is extremely exposed to inclement weather. I have in the past quickly slipped into near hypothermic conditions as soon as I have topped out into the tussock, grateful for the shelter of Luxmore Hut. After Mount Luxmore the track traverses a narrow exposed ridge line, wind can be extremely severe, even on the mildest day down at the lake. In winter it becomes colder and more exposed as you continue and there is no relief from the cold when you start dropping into the sunless upper Iris Burn.
It is best to do the alpine section first, with an up to date weather report in hand, this is specially true during the winter and spring, fatalities are most frequent among those travelling Iris Burn to Luxmore. The uphill gradient from Brod Bay to Luxmore Hut is much friendlier than the steep unrelenting climb from Iris Burn to Hanging Valley Shelter. If you have to be out there in less than ideal conditions move fast and do not stop in the open, use the shelters to rest.
There is an extensive trapping program all around the track, paid for by the Kepler Challenge. Bird life is excellent, the Iris Burn Valley is a biodiversity hot spot. Kiwi are present and seen regularly, Kakariki, Bats. An intrepid group of juvenile Kea entertainers are hard to miss.
I love every section of the Kepler track, its all a highlight to me, which is why I fast pack it several times a year.