Landsborough Track Cutting and Bikepacking Trip
11 September 2020 - David Cary
I needed to be at the Pleasant Flat bridge on Sunday at 2:30 pm where the track up the Landsbourough Valley starts. With ants in my pants, stressed and overdue for a trip, I decided to bike there.
Leaving Te Anau at dawn Saturday I rode until 9 pm to reach Wanaka with stiff head winds from Mossburn to Queenstown. It was a also a headwind pedal from Albertown along Lakes Hawea and Wanaka. I was grateful for every patch of forest in the Mount Aspiring National Park and the downhill from Haast Pass.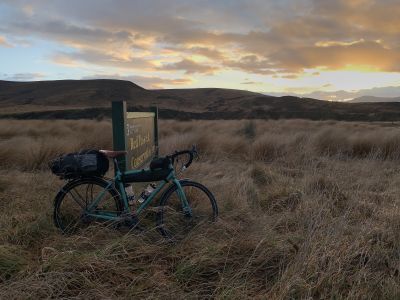 Arriving in plenty of time for my rendezvous, I swapped in a freshly waxed chain ready for the ride home and covered my leather saddle.
We began the easy walk to Ranger Hut around 2 pm and fortunately managed to get a lift the last few kilometers with the DOC Ranger who had ferried our luggage and a few of our party in his 4x4.
Blessed with fabulous clear days and frosty mornings, between 2 teams of 3 we recut the track over Strutts Bluff and cut a new 1 km plus track over the next bluff, essential for safe travel when river levels are not low, which is aparrently most of the time. Some of us also checked out the track at Harper Bluff but found little to do to improve it.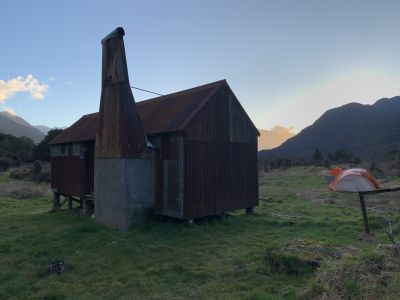 The highlight of the trip for me was the nights full off Morepork calling in all directions accross the valley, the beautiful open forest, and the plentiful butterflies on the flats. We saw Kaka and heard Kakariki.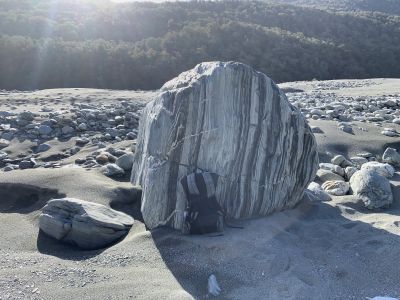 I left on foot early Wednesday morning, arriving at my bike at 9:30 am. The guys passed me near Camerons Flat. Fortunately I had a tail wind for the most part. I slept in Cardrona, rode the Crown Range in the dark, leaving at 3:30 am, ticking off town by town until I finally tackled the 4 km 200m uphill ride to my home, some of it in the bailout gear.
Thanks to Stanley, Alistair, Gavin, Sally and Annabel for a great trip. I ate everything I set eyes on and returned satisfied, relaxed, tired and sore.