Testing the Nothing Pack
25 September 2020 - David Cary
Today is the only day in a long stretch with low likelihood of rain and somewhat reasonable weather.
Snow is expected to sea level in a few days, and it is raining otherwise. Rather than waste it indoors, I decided on the spur of the moment to take my new 25l 200g Tuke Pack for a quick jaunt up the hill to Luxmore Hut.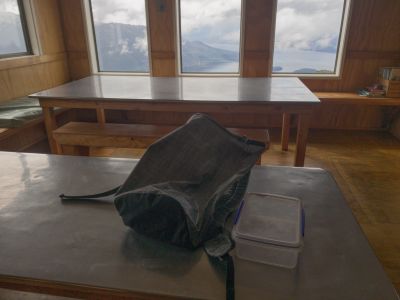 I am pleased to report that it performed extremely well. I put it on for the short bike ride to the Lake Te Anau Control Gates and forgot about it for the rest of the day. It is the nothing pack.
It did everything it is supposed to. My wallet was handy in the right strap pocket when I stopped in town to buy some lollies on the bike ride through, safe as houses otherwise. Every time I wanted to take a photo, my phone was right there in the left strap pocket, no thought required. I never had to stop for food, it was just there behind me in the bottom pocket. As I removed layers on the way up, it only took a few seconds to stash them in a dry place, safe from later light showers. At the hut, lunch appeared magically, I had not noticed it on the way up.
I love my nothing pack, its an absolute gem.