Doubtful Sound Conservation Trip With Side Adventure
14 October 2020 - David Cary
I have just returned from a trip to Deep Cove to check traps for the Deep Cove Education Trust and Permolat Southland.
Thanks to Stanley, Sally, Annabel and Alastair for a great trip.
Three of us went 4 days early and tacked on a very stimulating adventure on the ridges and valleys nearby, incorporating some of the tracks Permolat Southland have cut in the last year. I managed to give my empty pack a very thorough test in the toughest conditions in the world.
We survived very comfortably with a much larger than normal load over the impossibly steep Fiordland terrain, deep snow, impenetrable and near vertical scrub bashing, many rocky bum slides, swollen river crossings, wet dripping forest and 40 hours of constant rain.
I am very confident my Empty can handle anything that comes your way.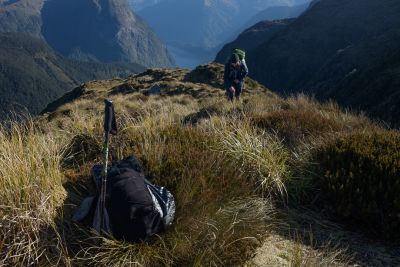 Please visit and stay at the Deep Cove Hostel, they really deserve support, they do a fabulous job for many schools and with their conservation work.
The Deep Cove Hostel is very warm and comfortable, accommodation is separate to education facilities and an absolute steal. There are a lot of well marked day walks nearby, and some serious adventures for those who are looking for more.