Flying Visit to Sammy Stoat
22 October 2020 - David Cary
A group of us fund raised to buy Sammy Stoat, resident near the top of Lake Alabaster, a PLB and heavy duty down jacket.
It was my job to get them to him.
Watching the weather forecast, I left home 6:30 am on Tuesday the 20th for Lake Marian Car Park at the top of the Hollyford Road. It is a 15 km bike ride to the bottom, including a few minor dismounts.
I packrafted the Hollyford, which is in great condition at the moment, to Rainbow Creek.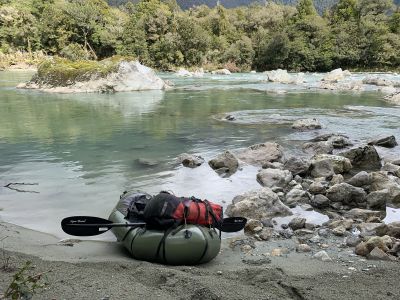 Walked to Alabaster Hut. Paddled up the lake against a fearsome headwind and walked off track for a short way, and a ferry glide accross the Pyke River to the airstrip, arriving totally spent but in surprisingly good time at 5:30pm.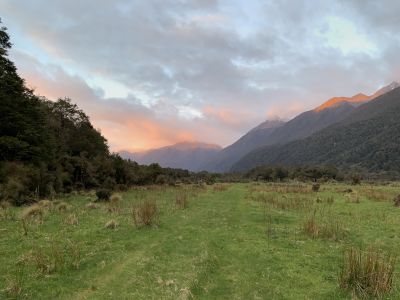 Next morning I left at 7:15 in calm conditions for the paddle down to the lake. Lake Alabaster was placid and foggy. Trusting the good conditions would last a few hours I paddled the 'wrong' Western edge of the lake to check out a few things that have been on my list for a while. I got out at Pyke Lodge and walked out to the road end in good time, I saw Riflemen, Kakariki and had a close encounter with a curious Kaka. Back at the carpark 5:30 pm, exhausted but happy.