April Empty Packs Newsletter
27 April 2021 - David Cary
Today, after months of waiting, I recieved an order of fabric from the NZ agents of Dimension Polyant.
Orders come a few times a year in a shipping container filled with sail cloth. With the current state of the supply chain everything takes a long time.
Now I have X-Pac VX07 in navy blue, deep red and off-white.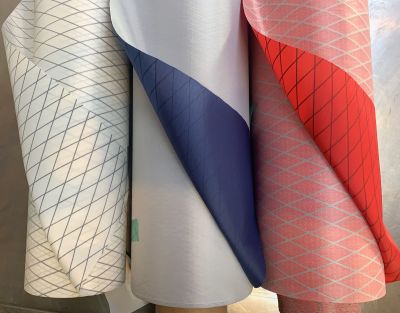 I am excited about VX07, it's a fabulous fabric, ideal for a waist bag, stylish 25l Tuke, a super light weigh 35l Empty, or for roll tops and pockets on a 45l Sandwich Pack.
I am really keen to make a multi coloured, mainly X-Pac VX07, 35l Empty. If you want a cutting edge sub 400 gram Empty use code RAINBOW here for a 50% discount. RAINBOW will work for the first two purchases of a 35l Empty Pack. I will prioritise your order and the lead time should be less than a week.
Since the last newsletter I have begun publishing The Empty Packs Podcast on a fairly irregular schedule. It is available on all the usual podcast platforms and at emptypacks.nz/podcast The idea is to record short, casual conversations with some of the very interesting people who pass through my workshop from time to time. Everybody has a story worth sharing and you are all my heroes.
There has been a lot of work done on the website in the last few weeks, to make it cleaner and more search engine friendly. Feedback is always welcome, if there is anything that is annoying or preventing you from getting what you want, I really need to know. It is meant to be simple and fast.
If you would like to review your Empty Pack please use this Google Places/MyBusiness link, every review helps Empty Packs to be found more easily by people searching online.
I have invested a huge amount of time and money in Empty Packs, never have I felt more committed, but there is still a lot of work needed to make this a sustainable business. Though some weeks are busy, my goal is to consistently sell three backpacks a week.
Thank you to everyone on this growing list for supporting Empty Packs.
Happy tramping.
David